"The Last Dance" documentary is over, but probably many of us still thinks about the unique story of Bulls and Michael Jordan. Let's remember all six MJ finals and sneakers he wore when he became a NBA champion.
1991. Air Jordan 6. (Chicago Bulls 4 - 1 Los Angeles Lakers)
Michael Jordan picked up his first title by wearing Air Jordan 6 sneakers. Inspired by the sporty design of the Porsche 911, the shoes helped Jordan compete in top gear - he averaged 31.2 points, 11.4 assists and 6.6 rebounds in 1991 NBA Finals.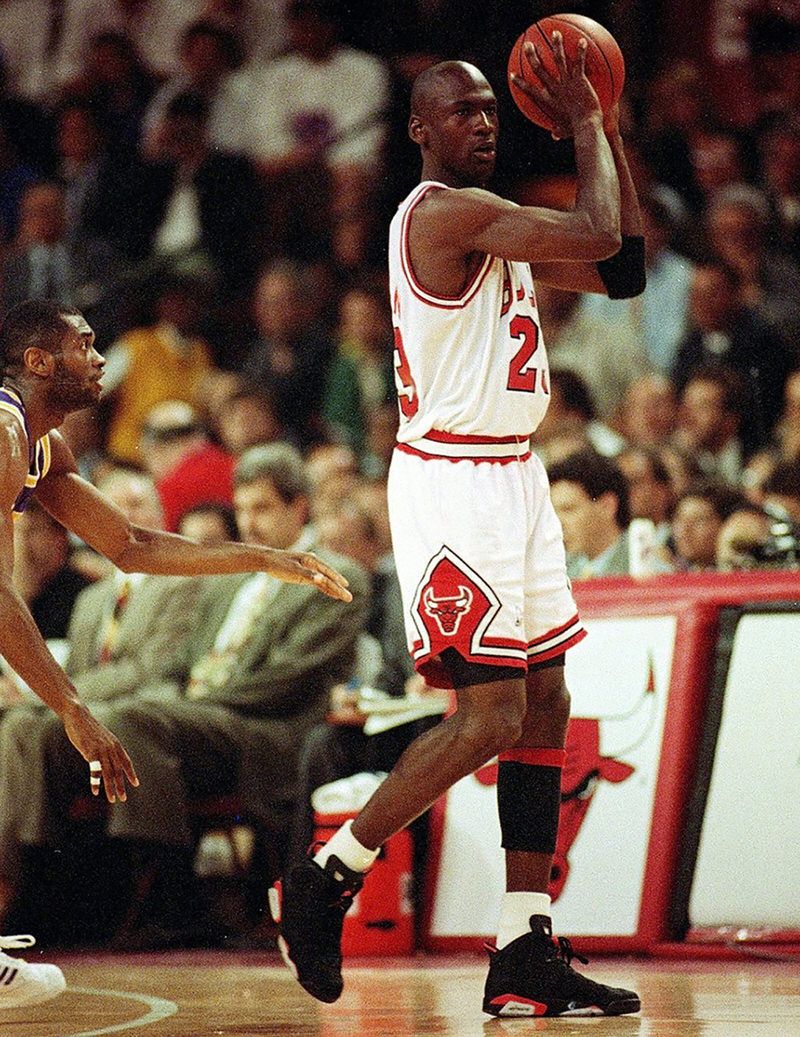 1992. Air Jordan 7. (Chicago Bulls 4 - 2 Portland Trail Blazers)
1992 was a very memorable year in Jordan's career – he won regular season and finals MVP titles, a second NBA champion ring and gold at the Olympics. MJ started the NBA Playoffs by wearing the Black / True Red version of Air Jordan 7, which later became became known as the Raptor colorway. With these sneakers, the basketball player gave the Bulls the second title in a row.
1993. Air Jordan 8. (Chicago Bulls 4 - 2 Phoenix Dogs)
The dominant Bulls realized the Three-Peat dream and became just the third such team in NBA history, with Michael Jordan becoming the first basketball player to win the finals MVP in each of the title runs. Jordan won his third title by wearing Air Jordan 8 sneakers, which were later named Playoffs.
1996. Air Jordan 11. (Chicago Bulls 4 - 2 Seattle SuperSonics)
The Air Jordan 11 shoes that became an icon were Michael Jordan's favorite. For most of the 1994-1995 season, MJ played with the Air Jordan 10 model, then in late spring the basketball player was presented with the Air Jordan 11, which left a big impression. In the 1995-1996 season, Jordan continued to play with Air Jordan 11 and once again led the Bulls to the finals. In the final series against the Seattle SuperSonics, he did not break with tradition and played with black-and-red sneakers, better known as Bred. The success story of Air Jordan 11 continues - sneakers have become a real icon that makes today's sneakerheads to go crazy.
1997. Air Jordan 12. (Chicago Bulls 4 - 2 Utah Jazz)
It was the first time Michael Jordan became NBA champion by wearing non-black and red sneakers. MJ won the fifth ring with black and white Air Jordan 12 "Taxi" sneakers.
1998. Air Jordan 14. (Chicago Bulls 4 - 2 Utah Jazz)
For most of the regular 1997-1998 season, Michael wore Air Jordan 13 shoes, that embodies MJ's alter ego, the Black Cat. During the NBA Finals series, Michael Jordan took the court wearing Air Jordan 14 to end an unforgettable era.
Find the great variety of Jordan shoes and apparel! ➡️ SHOP